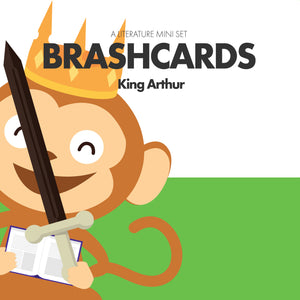 King Arthur
This set of 20 Brashcards features sentences from the classic tale of King Arthur. 
The "mini literature" pack contains a variety of simple and complex sentences like these:

The magician Merlin devised a brilliant plan!
Sir Kay forgot his sword, so he sent his squire Arthur for it.
The sword Excalibur dazzled King Arthur's enemies with its brightness!
Visual students will appreciate Grammar Nerds Club's color-coding for various parts of speech as they learn to diagram sentences.

This product is a digital download: by your purchase, you are acknowledging that no physical cards will be shipped to you. The product is a PDF file that can be downloaded and viewed on a computer or printed on card stock and cut to make individual cards (sized 5.5" x 4.25").