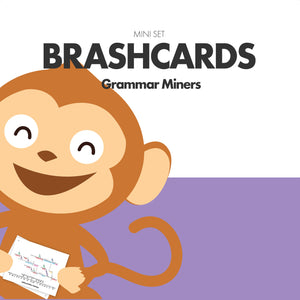 Grammar Miners
This 8-card set of Brashcards will give you a good idea of what these cards are all about. Sentences cover a wide range of diagramming proficiency from simple subject/verb to those with direct object phrases and compound-complex construction. Sentences are inspired by the video game Minecraft.
This sample set is designed for use with a complete grammar curriculum such as Classical Conversations' Essentials program.
This product is a digital download: by your purchase, you are acknowledging that no physical cards will be shipped to you. The product is a PDF file that can be downloaded and viewed on a computer or printed on card stock and cut to make individual cards (sized 5.5" x 4.25").